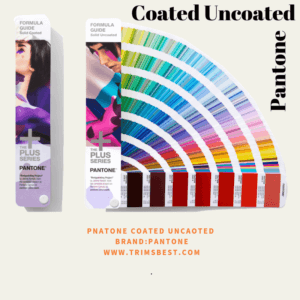 Pantone Coated Uncoated Formula Guide
Pantone Covered and Uncoated GP1601N Recipe Guide Ideal for Visual Creators, Bundling Planners, Print Architects, Pre-press Experts, Printers, Screen Printers, Brand Proprietors, Website specialists, Variety Evaluators – anybody determining, sealing, looking at, and endorsing spot tone.
C Pantone and U Pantone Formula Guide Book Supplier in Bangladesh please call +8801713063995.
CU Pantone Specification:
Shows every one of the 1,867 market-driven spot colors on covered and uncoated stock
Use plan motivation to squeeze check
Two conservative fan decks for simple survey and compactness
Pantone Spot Tones are accessible in most computerized plan programs
| | |
| --- | --- |
| Product: | Coated Uncoated |
| Model | GP1601N |
| Country | USA |
Handheld decks give an in a hurry reference.
Imprinted on the most generally utilized paper stock loads (100 lb covered and 80 lb uncoated).
The lighting Marker page exhibits that lighting conditions are appropriate for various assessments.
1,867 spot tones, including the most recent 112 varieties — the biggest variety range in the Pantone Illustrations Framework.
Organized in chromatic arrangement, new varieties showed toward the front.
Colors are accessible in particular in the most advanced plan programming.
The upgraded printing process for further developed variety precision.
Each tone is shown with its comparing number and ink detailing.
The file toward the rear of the aides gives the numeric area to each tone.
98% of highlighted colors measure under 2dE resistance to the expert standard information.
More Query Please visit Pantone's Official Website
BD Stall Pantone Price Bangladesh
c u Pantone book price in Bangladesh please call+8801713063995.
Trims Best Ltd is one of the top Pantone Color Guide Book Seller and Supplier in Bangladesh.