Intended to demonstrate the presence of shading on item, the pantone Color Guide represents every one of the 2,310 of the Fashion, Home and Interiors hues as a finish covering on paper. The ideal device for hard home, pottery, paint, makeup, fashion extras, and Leather applications, Color Guide is our most reasonable and compact offering in the FHI framework.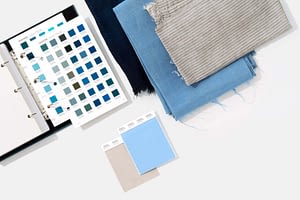 Format
Portable fan deck in a two-volume set
Seven colors per page on 1.6" x 0.8" paper chips made of lacquer stripe coating on Pantone  paper TPG (Textile Paper – Green) suffix indicates the latest evolution of the FHI product line – we removed all lead and chromium content from the Pantone TPX products to offer a safer and environmentally friendly product.
Color
2,310 colors, including 210 new market-driven colors.
Color arranged in chromatic format, with 210 new colors displayed in the front of volume one.
Each color referenced by a corresponding name and number.
Application
Use for hard home, ceramics, textiles, apparel, paint, cosmetics, fashion accessories, and leather goods.
Use for color inspiration, specification, and production at the office, lab, or on the go.
Query for latest price of pantone price in Bangladesh please call +8801713063995.
Trims Best Ltd One of the Top Pantone Seller and Supplier in Bangladesh.